Tech Forum
www.adlinktech.com/solution/ccps.html
Rugged Vehicle Computing Platforms - Design Considerations
Benson Chiu, Product Manager, ADLINK Technology Inc.

Overview
The trend in Vehicle Computing Platforms for end users has moved from office-based PC platforms to rugged industrial PC (IPC) products. IPC adoption is projected to increase at an above average rate in the traffic and transportation sectors. A significant driving factor of this growth is the increasing popularity of panel and box computer use on trains, buses, and at rapid transit terminals. In-vehicle digital signage and customer information displays are the most popular applications in these environments.
Requirements
The increasing availability and reliability of the Vehicle Computing Platform is a significant source of stimulation to the growth in rugged IPC deployment in the traffic and transportation sectors. Rugged IPCs are well suited to harsh environments and are therefore well suited to the in-vehicle environment.
So what are the requirements of a Vehicle Computing Platform for the traffic and transportation sectors? Vibration and shock are commonplace and as are additional demands such as extended temperature operation, conformal coating support and automotive power design. Also required are system enclosures designed to meet IP Codes (International Protection Rating) with the degree of protection against the intrusion of particulates and water that is necessary for the specific application.
In addition to the ruggedness provided by an IPC, Vehicle Computing Platforms may also have specific video requirements. Digital signage is a booming application in retail, education, hospitality and transportation. In-vehicle digital signage is increasingly in demand. With modern video technology, high definition video content is becoming the default standard in digital signage applications. However, mainstream embedded platforms generally do not have sufficient performance for HD video playback as their primary focus is low power consumption applications. Therefore, a Vehicle Computing Platform will also require a high definition video decoder to support video playback at resolutions from QCIF to Full HD.
An often asked question is, "How rugged is rugged?" The balance of cost and performance is always a dilemma to manufacturers. A true Vehicle Computing Platform should be rugged by design and not just ruggedized. In order to support the extremes of shock, vibration, humidity and temperature, care must be given to component selection, circuit design, PCB layout and materials, thermal solution, enclosure design, and manufacturing processes. Robust test methodologies including Highly Accelerated Life Testing (HALT) help to ensure that the platform is optimized while still in the design phase and meet MIL-STD shock and vibration, the ISO-7637 Automotive EMC Standard, and other reliability requirements.
Automotive Power Design
The automotive EMC environment is one of the most severe and the most unpredictable. The key areas for consideration are as follows:
    * Broadband radiated emissions
    * Narrowband radiated emissions
    * Conducted transient emissions
    * Conducted transient immunity
    * Radiated immunity
    * ESD
Conducted transient emissions and immunity are well known as critical phenomena to power in the automotive environment. Control of conducted transients in a vehicle is not covered by legislation in the same way as transients internal to systems in other environments. The ISO-7637 standard covers tests for conducted transients, as well as tests for transients inductively and capacitively coupled into adjacent wires from the vehicle battery. Both 12V and 24V systems are covered by the standard.
In order to meet ISO-7637, a power design for real automotive environment is required, not just a wide range of power input. In a Vehicle Computing Platform, the power unit should have Reverse Battery Protection, Surge and Overvoltage Protection, and a DC/DC Converter.
Furthermore, the automotive power design must have the ability to run on a wide range of vehicle power inputs, and ensure the platform can operate during load dump or cold crank situations. Use of a high efficiency buck-boost controller in the automotive power unit is recommended to provide the platform with the required voltage supplies to the Vehicle Computing Platform. Another factor to be aware of is that in the near future, 42V systems could replace of current 12V and 24V automotive systems. As more electronic devices are installed in vehicle, 42V systems can provide more than twice the power efficiency of 12V/24V system. This should be considered for future Vehicle Computing Platform development.

Conformal Coating
Conformal coating is a method of providing protection against moisture, contaminants, dust, abrasion, corrosion and short circuits, and is especially effective for in-vehicle environments. Conformal coatings also can protect circuits and components from solvents, and maintain the insulation resistance of the circuit board. The selection of coating material is an important consideration. Preferred coating materials are fast drying and easy to repair, have high moisture resistance and superior dielectric properties, and contain a UV safety tracer for ease of inspection under a blacklight. Conformal coating are generally applied in thin layers (typically 1~3 mils) onto the PCB assembly and in accordance with MIL-I-46058 and IPC-CC-830 standards.

Extended Temperature Testing
Temperatures in automotive environments can change drastically, rising as much as 20°C ~ 30°C within 15 minutes if exposed to direct sunlight. Upper extremes of 50°C inside a car are not uncommon. The ideal Vehicle Computing Platform is specifically designed to withstand high temperature and rapid temperature changes. It is also critical for Vehicle Computing Platforms to undergo thorough temperature testing to ensure reliable operation under these temperature conditions. An example of the screening profile from such a test is shown below.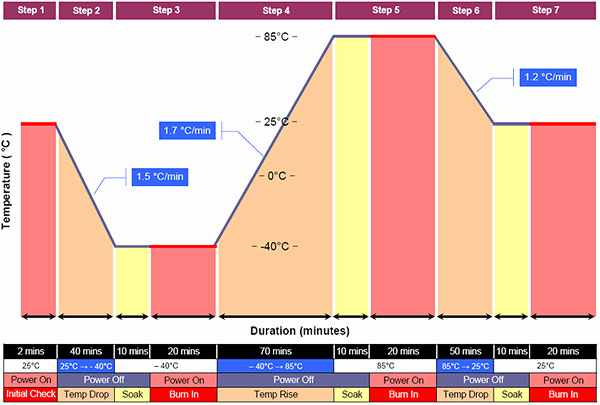 Ampro by ADLINK Extreme Rugged products screening profile
Airport Shuttle Bus Information System
An example of a typical Vehicle Computing Platform application is in an Airport Shuttle Bus Information System for use by an international airline running a city-to-airport transit bus service. To implement this system, a rugged Vehicle Computing Platform with shock and vibration-resistant design, flexible expansion interfaces for communications, low power consumption, HD video decoder, and automotive power design is required.
Based on an Ampro by ADLINK™ ReadyBoard™ EPIC form factor SBC, the Airport Shuttle Bus Information System can drive two displays: one digital video output with HD video decoder for an in-vehicle digital signage application, and an analog output for driver navigation and dispatch information. A flexible expansion interface, such as mini-PCIe or PCI-104, supports a WiFi/WiMAX/3G telecommunication module to receive real-time information, such as flight arrival and departure information, news, and advertising content for the signage display. Other expansion options include a digital I/O module, GPS, or video grabber module. Automotive power design allows reliable operation of the Airport Shuttle Bus Information System and avoids damage from conducted transient emissions in the automotive environment.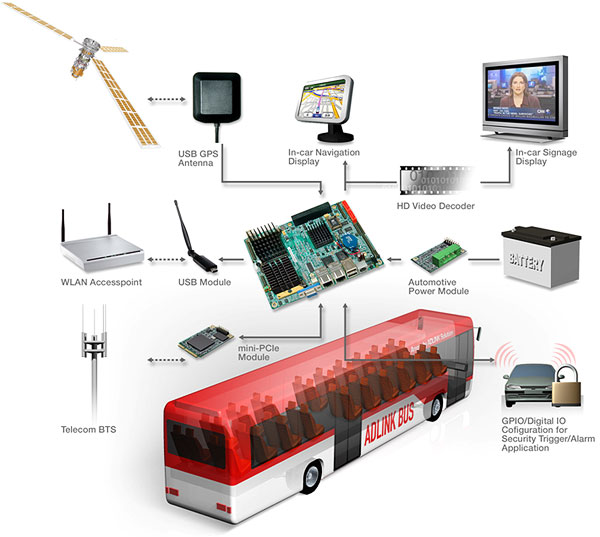 Ampro by ADLINK Airport Shuttle Bus Information System Solution
Mass Rapid Transit Security System
The security of public transportation systems has become an increasing concern in recent years. City buses, railways, subways and other transit systems are implementing intelligent platforms to monitor public areas and ensure riders safety. Stationary CCTV systems can handle the requirements at stations, but rail carriages are still blind spots. A rugged Vehicle Computing Platform plus intelligent IP cameras is required to extend the range of the security system to the entire transit system.
A mass transit rail carriage needs a rugged system to fit into limited space that is able to withstand the dust, shock, and vibration encountered in the operating environment. Such a platform could be based on an Ampro by ADLINK™ RuffSystem, which meets MIL-STD-810 shock and vibration standards and is IP50 rating. Dual Gigabit Ethernet ports can interface with IP cameras and operate with intelligent surveillance software combined with built-in GPIO or digital I/O functionality to automatically detect potential threats, or objects on the tracks to aid emergency management and response. This intelligent system could also improve be used to increase operational efficiency and performance.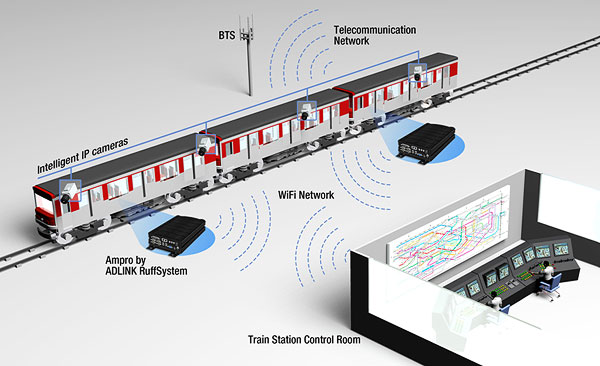 Ampro by ADLINK Mass Rapid Transit Security System Solution
Summary
Vehicle Computing Platforms are systems for mobile applications in the harsh environments of the traffic and transportation sectors. Critical factors that need to be considered for these platforms are electrical and mechanical durability. The basic requirements are rugged enclosures, wide operating temperature range, shock and vibration resistance, a certified automotive power module, and conformal coating. The ideal Vehicle Computing Platform should be specifically designed to meet these requirements and not just a ruggedized office-based system.