Axiomtek, one of the world's leading designers and manufacturers of innovative, high performance and reliable PC-based industrial computer products, has launched the rBOX510-6COM, its new din-rail fanless embedded PC utilizing the Intel® Atom™ dual-core processor E3827 with 1.75GHz and onboard 4GB DDR3L system memory. The superior rBOX510-6COM features full rugged industrial designs: dual isolated Gigabit LANs, four isolated RS-232/422/485 ports, two RS-232/422/485 ports, one isolated DIO (8-IN/8-OUT) port, front-facing LED indicators, wide range 12- 48VDC power input with terminal block, and three full-sized Mini cards for 3G/GPRS/Wi-Fi connections. The compact fanless din-rail rugged box PC is designed to operate in a wide temperature ranging from -40°C to +70°C and easy to install and maintain. The smart embedded platform is excellent for space concerned, remote, IoT/M2M, and harsh environments such as power plant, outdoor electricity distribution system, gas station, refinery, mine control room, and any other mission-critical applications.
The Axiomtek rBOX510-6COM is set out to be a comprehensive computing and communication embedded solution, and comes with the smart monitoring software package, AXView 2.0, featuring SNMP, MQTT, MODBUS, SNMP Trap, Email support for industrial secured Internet of Things management. This intelligent din-rail robust embedded system is ideal for both indoor and outdoor industrial applications such as power plant automation, facility monitoring systems, intelligent transportation systems and much more, bringing unlimited business opportunities.
More Safety, EMI compliance & Isolated Ports Design
The robust industrial grade rBOX510-6COM has passed heavy industrial CE, FCC Part-18 and UL certifications, and environment test for IEC60068-2-6, IEC60068-2-27 and IEC60068-2-32, and pre-tested EN50121-4 standard for railway application. Onboard processor, memory, and RTC battery and SATA SSD supported make the din-rail box computer an excellent solution for vibration environment. Furthermore, four isolated RS-232/422/485 ports, two isolated 10/100/1000Mbps Ethernet ports, and one isolated 8-IN/8-OUT DIO port are supported to prevent static charging and over-voltage.
AXView 2.0 Intelligent Management Solution for IoT
To streamline implementation of management applications, Axiomtek has launched exclusive "AXView 2.0" monitoring software package for customers to build their own management systems easily and quickly. Axiomtek AXView 2.0 also contains a variety of easy-to-use management utilities, agent services and libraries as follows:
• Local Hardware Monitoring
• Local SRAM Backup
• Remote Management
• Store Apps
• Service Cloud
• SNMP, MQTT, MODBUS, SNMP Trap, Email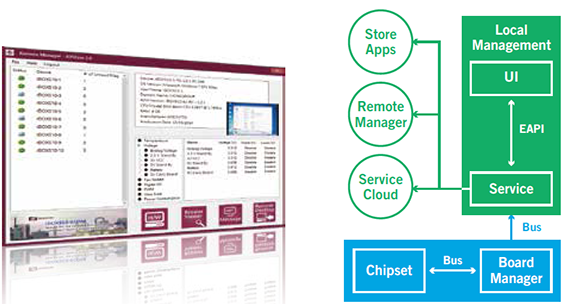 Axiomtek's rBOX510-6COM is going to be available in late of February, 2015. For more product information or pricing, please feel free to visit us at global website www.axiomtek.com or contact one of our sales representatives at info@axiomtek.com.tw .
Advanced Features:
Fanless and cableless design
Supports Intel® Atom™ dual-core processor E3827 (1.75GHz)
Wide range temperature operation of -40°C ~ +70°C
4 isolated RS-232/422/485 ports & 2 RS-232/422/485 ports
1 isolated DIO (8-IN/8-OUT) port
2 isolated 10/100/1000Mbps Ethernet ports
2 watchdog timer
RTC battery function
LED indicators
3 wireless (3G/GPRS & Wi-Fi)
Supports 1 x 2.5" SATA SSD/HDD (or mSATA), 1 CompactFlash™
Wide range 12-48 VDC-In with terminal block
Supports AXView 2.0 intelligent management solution for IoT/M2M