Axiomtek, one of the world's leading designers and manufacturers of innovative, high performance and reliable PC-based industrial computer products, has announced the launch of the GOT815-834, its streamline 15-inch multi-touch stainless steel panel computer especially designed for process automation. The hardened GOT815-834 is fully IP66-rated and made of SUS316 stainless steel for use in food or beverage applications. The SUS316 stainless steel is used in order to prevent bacteria growth and avoid getting rust by prolonged usage. The industrial panel PC has an IP66/IP69K-rated, water/dust-proof stainless enclosure and six IP66-rated M12-type connectors to resist ingress of high temperature and high pressure water. For more, the wide temperature design of -20°C to 55°C is ideal for freezing or high temperature conditions within food processing environments. The flat panel design prevents accumulation of dust and moisture and also makes cleaning easier. It can withstand vibration up to 2G, 5 to 500 Hz. With its rugged construction and extreme slim design, the Axiomtek GOT815-834 is very suitable for mounting in food and chemical industries.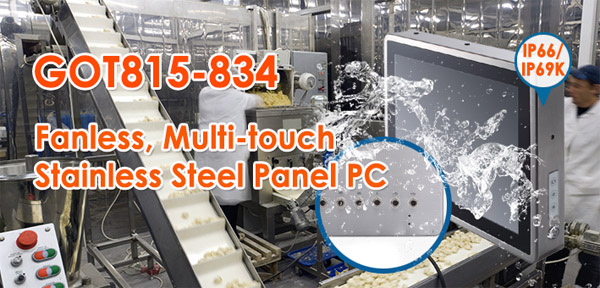 "Good food hygiene is essential to make or sell food that is safe to eat. Our brand-new GOT815-834 can be used in food and beverage production lines where daily cleaning with pressure water is required. Its fanless and noiseless design and IP66/IP69-rated waterproof enclosure keep the system working efficiently and reliability against hazards including dust, dirt, water, oil, and chemicals. The outstanding stainless touch panel PC also can be used as a shop floor terminal at chemical and steel plants where there is high exposure to liquid spray, heat and air-borne particles," said Debbie Tu, product manager for Axiomtek's Product Marketing Division.
To meet different application need, the GOT815-834 supports the dual cores Intel® Atom™ processor E3827 at 1.75 GHz and one DDR3L SO-DIMM with up to 8 GB. This all-in-one industrial-grade stainless touch panel PC is equipped with a 15-inch TFT XGA LCD with 420 nits high brightness and supports six IP66-rated M12-type connectors as well as offers projected capacitive touch screen or flat resistive touch screen. it provides friendly user experience.
Also, the 15" stainless steel touch panel PC supports one 2.5" SSD and one CompactFlash™ socket for storage. The panel system features various mounting options: wall mount, suspension, VESA arm and desktop stand. Moreover, the wide-temp touch panel PC is certified with CE to meet industry grade approval standards and ready for Windows® 8 or 7.
Axiomtek provides a wide array of intelligent IoT & M2M industrial systems and embedded boards & modules. For more product information or pricing, please visit our global website at www.axiomtek.com or via Facebook, Twitter and YouTube. Please contact one of our sales representatives at info@axiomtek.com.tw.
Main Features
316 grade stainless steel for food and chemical industries
15-inch XGA (1024 x 768) color TFT LCD display with 420 nits brightness
Supports wide operating temperature range of -20°C to +55°C (-4°F to +131°F) and IP66-seald system
Fanless cooling system with Intel® Atom™ Processor E3827 dual core at 1.75 GHz (Bay Trail)
Supports one 2.5" SSD and one CompactFlash™ socket
Supports four M12-type USB 2.0 ports, two M12-type COM ports and M12-type Gigabit Ethernet port
Supports two PCI Express Mini Card
Supports VESA mount and desktop stand