Axiomtek, one of the world's leading designers and manufacturers of innovative, high performance and reliable PC-based industrial computer products, has announced CEM846, its new COM Express type 10 Mini module powered by the Intel® Atom™ processor E3800 family (codename: Bay Trail) with Intel® HD graphics (Gen 7with 4EU) engine. The CEM846 addresses the need for modular and small form factor computing platform that provides flexibility and scalability, and aimed at operating in an extended range of temperature. The computer on module is only 84mm x 55 mm form factor which supports onboard 4 GB DDR3L memory, wide voltage, rich I/O, and four lanes of PCle interfaces. From all these features together, the Intel® AtomTM-based COM Express type 10 CPU module can be widely applied to IIoT (Industrial Internet of Things), medical, transportation, security, military, portable device and many more.
The Axiomtek's new CEM846 features high performance density and low power consumption in a small footprint design that offers integrators higher flexibility without sacrificing performance and faster time-to-market. The rugged small form factor CPU module is offered with a choice of quad, dual and single core Intel® Atom™ processor which is more flexible for meeting the different custom requirements. It supports the capability of 4.75V~20V wide range voltage power input and an extreme wide range temperature from -40°C to +85°C for applications in extreme environments. The outstanding 7th generation Intel® HD graphics engine integrated in the processor promotes the single-chip module with dual independent displays to support advanced image and video processing. The Intel® Bay Trail SoC mini CPU module provides three DDI channels, as well as LVDS, enabling it to support up to two independent displays at 4K resolution.
Faced with concerns about widely applied, the robust, pocket sized module supports serial signaling protocols including one LPC, four PCIe, two SATA-300, one Gigabit Ethernet supporting Wake-on-LAN, eight USB 2.0, one USB 3.0, HD audio, 4-In/Out Digital I/O, one LVDS (18/24-bit single channel), and one DDI port supporting HDMI/DVI/DisplayPort. With all of these protocols, the CEM846 enables to connect with different signals generally to expand the possibility of various applications. Moreover, to ensure reliability and stability, hardware monitoring and Watchdog Timer are supported as well. The CEM846 possesses flexible features as above that make it rather attractive for the users looking for a semi-custom and application-specific solution for strict environment.
Axiomtek provides a wide array of intelligent IoT & M2M industrial systems and embedded boards & modules. For more product information or pricing, please visit our global website at www.axiomtek.com or via Facebook, Twitter and YouTube. Please contact one of our sales representatives at info@axiomtek.com.tw.
Advanced Features
Intel® Atom™ processor E3845 quad core, E3827 dual core or E3815 single core (Bay Trail SoC)
COM Express® mini Computer-on-Module family (84mm x 55mm) with Type 10 pin-out
Max. up to 4 GB DDR3L memory onboard
Industrial-grade wide operating temperature range from -40°C to +85°C
Max. up to 4 lanes of PCIe
Supports 2 SATA-300
Supports 8 USB 2.0 and 1 USB 3.0
Supports 2 Serial TX/RX interface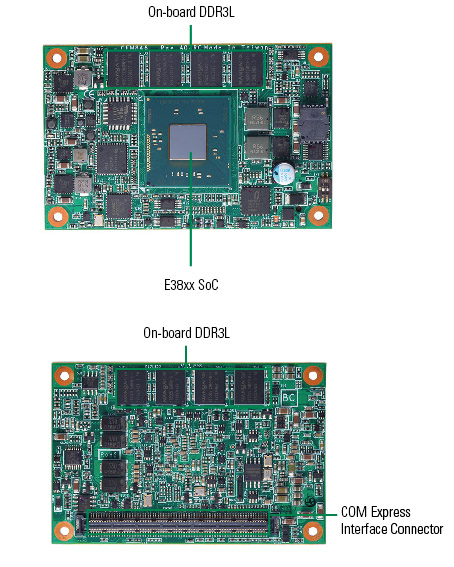 Axiomtek has over 20 year experience in design-in service and provide customized thermal solution, embedded software support, and modularized accessory to meet different levels of customized service. In order to quickly access up-to-date documents, Axiomtek Technical Portal (ATP), our web-based support service, allows users to download technical design guides, mechanical 2D/3D drawings, and software utilities simply through ATP web page.