Axiomtek, one of the world's leading designers and manufacturers of innovative, high performance and reliable PC-based industrial computer products, has released ICO310, the industry's first field controller with PoE PD function. The ICO310, a robust din-rail IIoT (Industrial IoT) embedded platform, supports low power Braswell Intel® Celeron® processor N3060 1.6 GHz dual-core or N3160 1.6 GHz quad-core with up to 8GB DDR3L system memory, delivering high performance and low power consumption at competitive price. The outstanding Braswell Intel® Celeron® SoC-based embedded field controller offers complete expandability and full featured I/O, including two Gigabit LAN ports, two RS-232/422/485 ports, two USB 2.0 ports, two USB 3.0 ports, one VGA port, and one DIO interface. Two PCI Express Mini Card slots, one SIM card slot and three internal antennas are available for 3G/GPRS and Wi-Fi connections. Its storage interfaces include an SATA SDD, as well as mSATA support on the PCI Express Mini Card slot. Additionally, the wide range 12V-24V DC terminal block power input with overvoltage and reverse protection can lower the risk of data loss under human manipulation. The reliable yet robust ICO310 is a perfect solution for industrial IoT applications such as smart energy, smart factory automation, facility monitoring systems and many more.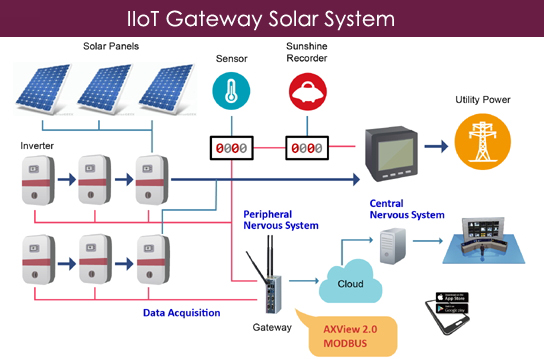 Axiomtek's new ICO310 comes with low power consumption Intel® Celeron® processor, wireless connectivity, rich expansions, robust design, ideal for machine or factory automation and smart IIoT gateway. Furthermore, the awesome ICO310 features PoE PD function, which can simplify network installation and minimize the total costs of replacement and maintenance. It is also available with 3G/GPRS as well as Wi-Fi connections, making it more flexible and efficient for ODM project. The ultra-light weight and compact design is well suited for any space-limited application, moreover, the robust IP40-rated housing and -20°C to +60°C extended operating temperatures ensure it reliability and stability in extreme environments.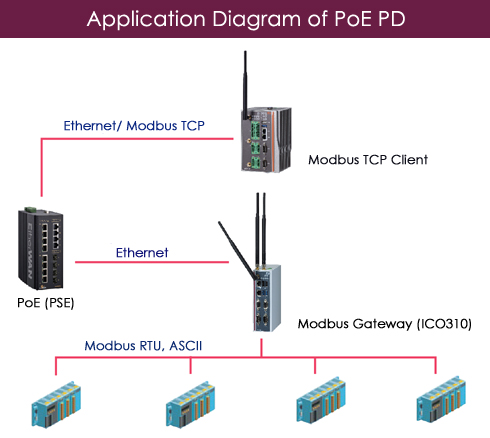 Axiomtek's robust Intel® Celeron® SoC-based IIoT gateway solution ICO310 supports MODBUS protocol and AXView 2.0 intelligent remote monitoring & management software for industrial IoT application. It also avails users to manage a variety of systems effortlessly with a wide range of industrial interfaces. As a result, this new embedded controller simplifies the process of deployment of IIoT gateway, and achieves accelerated business transformation at a lower cost.
Advanced Features:
Fanless operation and din-rail design

Supports Intel® Celeron® processor N3060 (1.6 GHz/2-core) or N3160 (1.6 GHz/4-core) Braswell SoC

2 RS-232/422/485 ports

4 USB ports (2 USB 3.0, 2 USB 2.0)

2 isolated 10/100/1000Mbps Ethernet ports

1 PoE PD is compliant with IEEE 802.3at standard through LAN 1

1 DIO port

Two PCI Express Mini Card slots and one SIM card slot (3G/GPRS & Wi-Fi)

Supports 1 mSATA & SATA SSD (or HDD)

Wide range 12-24V DC-In